Great Places to Fly a Drone in UK – Hambrook Marshes in Canterbury.
Whenever I feel like I want to try a new video or photography technique, I tend to travel to Canterbury and get my drone in the skies over the Hambrook Marshes.
Situated in the historic cathedral city, Hambrook Marshes has plenty to offer all drone pilots from novice to expert levels.  Stunning landscape views of both lush green countryside as well as fantastic views across the centre of Canterbury itself.
Running along side the open marshy fields of the Hambrook Marshes is the Great Stour river which offers drone pilots some great reflective video and photography opportunities.
If you want more wetlands to take drone photos and video of, then you will also find plenty of large lakes that lend themselves nicely to even more opportunities to grab water themed photos and videos with your drone with minimal risk.
For the more experienced drone pilot, there are two railway tracks that run into Canterbury that are visible from the air from a safe distance.  There is one railway train that runs from Chartham that goes to Canterbury West, and another track that goes to Canterbury East from Ashford.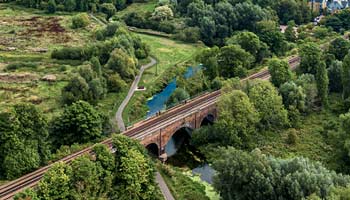 It's the Canterbury East Ashford line that will excite most drone pilots.  To get to the Canterbury East train station, the trains have to cross a large brick viaduct that crosses the Great Sour.  The viaduct offers the chance for drone photographers to get a photo or video of a train crossing over with the Canterbury Cathedral in the background.
For the more energetic of drone pilots, the Great Stour Walk from Canterbury to Chatham is a really nice walk to take.  you might even find other interesting landmarks to try to capture by drone.
Summary
Hambrook Marshes offers :
River views
Viaduct
Lakes
City views
Trains
Railway tracks
Industrial estates.
Just one not for safety, there are a few power lines dotted around to look out for.  They are not the easiest to spot as the can easily blend into the background.
If you feel that Hambrook Marshes could be a great place for you to fly your drone, then I would recommend parking at the Park and Ride and then following the signed footpath to Hambrook Marshes.  I think it will be well-worth the parking fee many times over.