I've decided to make a list of great places to fly a sub 250 gram drone in Kent.  Please bear in mind that these are places you can fly using a drone that weighs less than 250g, such as a DJI Mini 2.  Some of these locations require you fly over residential areas and closer than 150 metres to buildings and built up areas.
Hambrook Marshes, Canterbury
Whenever I need to just get out with my drone, I head over to Hambrook Marshes in Canterbury.  It has plenty of space, great aerial views of Canterbury City, The Great Stour River and stunning lakes that all make fantastic subjects to use for aerial photography.  Also, the marshland itself has plenty of texture that make great looking abstract photos.
Crossing the Great Stour is a railway viaduct, so if you are lucky, you might be able to grab a photo of a train crossing the viaduct on its way into Canterbury East train station.  Just be aware of not getting too close to the railway.  Network Rail ask drone users to keep 50 metres clear of the railway lines.
Reculver Towers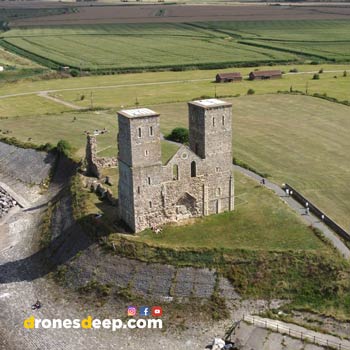 As I have already blogged about, I think Reculver Towers is the ideal place to gain confidence in flying your drone over water and capturing awesome photos of this historic landmark on the Kent coast.  I have been here many times with various drones., and I highly recommend any drone user to visit here.
I would suggest making the effort to get there very early in the morning if you like sun rise photography.  In early Autumn the sun is in the perfect position to get the sun rising behind the towers.  Equally as appealing is the opportunity for some great sun set photos in the early evenings.
Deal
The Kent coastal town of Deal offers various opportunities for drone photographers.  You'll get to fly over and around Deal Pier as well as taking some photos of Deal Castle.  Deal beach is a pebble beach, so I also enjoy taking photos and short video clips of the waves rolling over the pebbles too.
I would like to point out that there are plenty of seagulls at this location, so keep your eyes peeled for potential curious seagulls getting close and personal with your drone in flight.  In my experience, flying as high as possible keeps the seagulls at bay.
Canterbury Cathedral
For me, getting an aerial photo of the Canterbury Cathedral has been my holy grail.  Ever since I purchased my first drone I had always wanted to get a photo of the world heritage site.  When the drone rules changed in 2021 it made it easier to fore fill this ambition.  It is still a difficult place to take photos of.
One of the main difficulties is finding somewhere suitable to take off and land from AND keep VLOS.  I eventually found a place just outside Christ Church College.  I did have to fly over residential properties, but I remained at least 50 metres above them and was able to keep my eyes on the drone whilst getting a photo of Canterbury Cathedral from above.
Snowdown Colliery
If you like taking drone photos and videos of abandoned places, then I highly recommend a visit to Snowdown Colliery mine.
Abandoned in 1987, this old coal mine has been left to ruin ever since.  You are not permitted to enter the grounds, but there are plenty of places outside the metal fences that you can take off from and keep VLOS.
There are plenty of abandoned buildings that offer great subjects to get apocalyptic photos and videos of.  You just need to keep an eye out for potential encounters with buzzards that are common in the woodland area surrounding the mine.
Oare Creek
This is a place that I wished I had visited earlier.  I was amazed that I had never heard of this place before.  It's one of the best places I have flown my drone.
It has pleasure boats, sunken boats, parts of a dried river bed, and mud flats that easily cause you to use up your batteries before you know it.
I would recommend spraying yourself with insect repellant as it is alive with bugs.  You are able to use a public footpath that runs parallel with the river as a perfect platform to launch your drone.
The River Stour and Great River Stour
I have walked most of the length of the Great Stour and The Stour that runs from its source in the village of Lenham to its mouth at Pegwell Bay, Sandwich.
There are some truly stunning views to capture with your drone following this river in Kent.
You will not only travel through some idilic Kent villages such as Lenham, Wye, Chartham, Grove Ferry, but you will also find yourself in larger towns and cities such as Ashford and Canterbury.
St Margarets Bay
Unfortunately the White Cliffs of Dover are nested inside a No Fly Zone due the the Port of Dover.  But if you want to get some of the best alternative photos of white cliffs, then I recommend St. Margaret's Cliff Bay.
It has a very large car park and is usually quiet in terms of people and seagulls.
This location is just a stone's throw away from Dover, so be sure not to wonder into the Dover Port No Fly Zone.
Fordwich
The Kent village of Fordwich makes an interesting place to take aerial photos of.  It is a very small town.  It was always referred to as the smallest town in England due to it having a town hall.  With the Great Stour, Fordwich Lakes,  and old bridges, Fordwich has a wealth of drone photography opportunities.
There is also a canoe hire company that uses a stretch of the Great Stour which make something interesting to film if you let people aware that you are flying nearby.
Do you have any other suggestions where I should fly my drone.  I'm always happy to hear about other peoples recommended place to visit with a drone.  Send me a message via my Drones Deep Instagram account.
Drones Deep Instagram | Facebook | YouTube
Please follow and like us: