This is a the Reculver Towers set in front of a beautiful sunrise taken in early September 2020.  The position on the sun was in the perfect location to grab this aerial warming sunrise shot.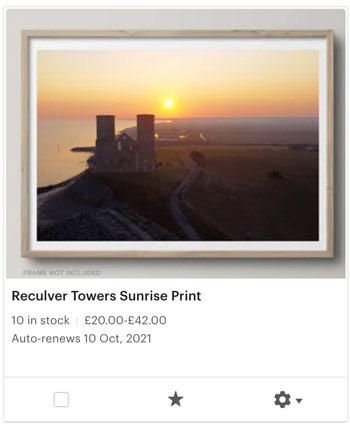 I remember this photoshoot very well.  I set my alarm very early so I did not miss a minute of the sunrise.  I have missed out before when arriving on location too late.
The Reculver Towers make a great location for a drone photoshoot.  In the early morning, there are not many people around and there is no danger of disturbing anybody's privacy.
This sunrise photo of the Reculver Towers is now available to purchase at my Drones Deep Etsy shop.
I also have other aerial sunrise phots to buy at my online drone photography shop too.  If you enjoy looking at drone photography, then please take the time to look at my Drones Deep Instagram account that has many more examples of my work.
Please follow and like us: