As a drone pilot, I fully understand the need to find new and interesting places to fly my drone.  With this in mind I've decided to write about some recommended drone location in Kent.  I'm hoping that other drone pilots find this drone blog article and enjoy this location just as much as I did.
This location is Oare in Kent.  Situated just outside Faversham, Oare has a little bit of everything to keep a drone pilot interested.  With lush green marshland giving fantastic birds eye view patterns and textures and old wrecked boats littering the sandbanks at low tide, this wetland area is a drone photographers dream.
There are also plenty of boats lined up along the river banks that make great subjects to fly over with the gimbal set to look straight down.  On a bright sunny day, the colours along the Oare river banks are a mixture of browns, greens and blues.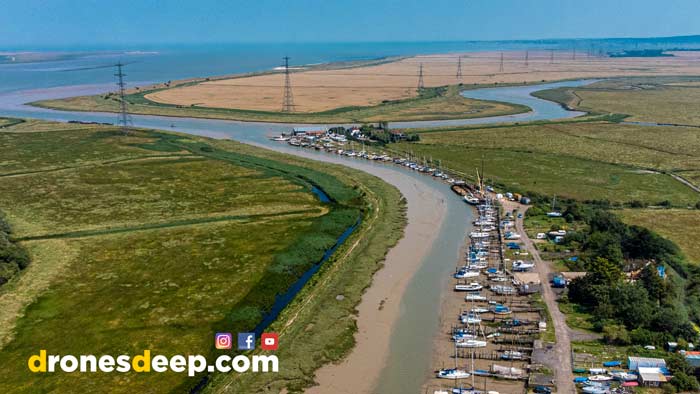 For me, the stranded rowing boats that look like they have sunk to the bottom of the river make a perfect object to fly your drone over to get that photos with the boat surrounded by the reeds and patterns formed by the endless amount of steams and creeks.
I found this drone location to be very quiet with only a handful of passers-by who gave an approving nod as they walked by peering up at my hovering DJI Mini 2.  The only thing you need to be aware of are the large electric power lines situated further towards the sea, but they are far enough away not to spoil your enjoyment.
I was pleasantly surprised that the wildlife in the area didn't seem to mind the appearance of the Mini 2 appearing in the sky.  The seagulls kept their distance and the occasional pigeon never came near.
Most importantly, there is a good amount of parking nearby too.  Being able to park the car when out scouting for droning locations in a pain in the butt.  You should have no problem parking on the side of the road near to the entrance to the public footpath that will take you directly to the area.
Please follow and like us: